How to make the most of your holiday while caring for a person with dementia
For many of us, the holidays are a time of year that brings much joy. Many of us savor memories of holidays past, either from our own childhood or through the eyes of our own children. Others take great personal sentiment in the spiritual meanings of the holidays, or time spent with family and friends.
Preparing for the holidays at the best of times can be tiring and difficult. For those of us who have a loved one with dementia however, the holiday season can be quite a bit more difficult. Memories of past holidays can remind us of how much has changed, and the physical tasks of preparing for the holidays can add extra stress and burden.
We may feel the need to try to uphold longstanding family traditions which simply may not be possible. This is not to say that one cannot enjoy the holidays when you are caring with or for someone with dementia, it simply means that you may have to adjust your expectations and make some changes to family traditions that can allow you and your family to find lasting joy and meaning in the holiday season. The following are tips for making this holiday season special for you, your loved one with dementia, and for your family.
Managing and adapting expectations:
As a caregiver of a loved one with dementia, there are a few things you want to consider. First, it is important to start with the end in mind – what do you hope to experience from your holiday interactions? Is it enough to have your loved one present at family gatherings in order to maintain your expectations and traditions? If not, how might you either alter your expectations, or get support to modify and simplify the traditions to meet the person with dementia where they are? What are the family traditions that are important to maintain?
Secondly, as with any other time of the year, it is important to carefully consider the routine and capacity of your loved one with dementia when planning holiday activities, and wherever reasonable, try to maintain this routine. For example, it might be best to plan these activities at the time of day that your loved one functions at their best. In all of your preparation, take the time to carefully consider what you are able to manage during an already pressing and stressful time of year. With careful thought and planning, both you and your loved one will be able to share in the beauty and magic of the holiday season.
Include the person with dementia:
Throughout the stages of preparing for the holidays, involve the person with dementia in ways that are meaningful to them. Involve them in planning decisions to the extent that they are able, and in appropriate, manageable activities.
You might also want to think about how the person with dementia can safely participate in holiday preparations so they can be meaningfully engaged. For example, baking Christmas cookies may be something they can no longer participate in, but perhaps they would enjoy helping to decorate the tree, singing holiday songs, or going for a drive to see holiday decorations in your neighborhood. Build on past holiday traditions and memories while being open to creating new ones together.
Preparing your guests:
When interacting with someone impacted by dementia, one of the most important considerations is communication. Respectful, considerate communication is very important, but may not be intuitive for those who have not interacted with your loved one for some time.
For many of us, it is important to us that the person with dementia knows who we are and our relationship to them. We will ask questions like, "Remember me Charlie?" Be sure to stress to your family and other guests that memory loss is a result of the disease, and how important it will be for them to focus on the meaning in the present moments spent together, rather than quizzing him or her about what they remember. If this is the first time that family or friends have seen your loved one in some time, it is helpful if you prepare them for some changes they might expect to see. If you feel having a basic understanding of the disease would be helpful, request information from your local Alzheimer Society, or visit our website at www.alzheimer.ca/nb.
It is also important for you to share any changes that you have had to make as a result of your role as a caregiver, and the ways that they can be supportive during their visit.
You may want to consider sending a letter or email with some of the following information:
"While we are looking forward to your visit, we thought it might be helpful if you understood our current situation when you arrive."
"You may notice that ___ has changed since the last time you saw him/her. Among the changes you may notice are ___. I've enclosed a picture so you know how he/she looks now."
"Because ___sometimes has trouble remembering and thinking clearly, his/her behaviour may be a little unpredictable. Please understand that ___may not remember who you are and may confuse you with someone else. Please do not feel offended by this. He/she appreciates your being with us and so do I."
"Please treat ___as you would any other person. A warm smile, and a gentle touch on his or her shoulder or hand will be appreciated more than you know."
When planning to have guests in your home, it is helpful to have a backup plan. When a person with dementia becomes overstimulated or becomes fatigued, they may need a break from the gathering. It is a good idea to have a support who can either sit with the person with dementia in a quiet room, or continue to host while you are able to sit with them.
By preparing your guests with some of the listed suggestions, you are offering education in an attempt to have the best outcome possible. Should your guests wish to access further information before or after their visit, please feel free to refer them to call the Alzheimer Society closest to them.
Be flexible where possible:
During the holidays there are often a number of competing engagements that we commit to with family and friends. Consider celebrating your main holiday meal over lunch or brunch to cut down on the stress of the late day fatigue your loved one might experience. If the person with dementia experiences sundowning, this is an especially important consideration. Remember that the holidays are about opportunities to share time with the people you love. Try to make these celebrations as easy on yourself and the person with dementia as possible so you can concentrate on enjoying this special time together.
Long-term care holiday tips:
Of the family traditions we hold dear, few of us picture visiting a loved one in a long-term care facility as one of those normalized traditions. That said, visiting a loved one in a care facility can be an enjoyable experience for both you and your loved one with a few considerations.
It is difficult to know how to include a person with dementia in a care facility in the celebrations and activities of the holidays, as well as what might be an appropriate gift. The answer to this question will of course vary from person to person, but there are a few general considerations to include in your planning. If you would like to include your family member in a celebration or activity outside of the facility, you might want to consider how they have done in the past when they were taken from their familiar environment and use this as a gauge. You will also want to be prepared to leave early with a thought out exit plan if the person with dementia becomes fatigued or confused.
If you plan to celebrate in the care facility, try to plan a few short visits with one or two people rather than a large group all at once. If there are holiday activities planned at the care facility, you could arrange your visits so that you can participate along with your loved one, or depending on the amenities in the facility, you may be able to book a quiet private space to be together. Gifts like slippers, a bird feeder, a CD with some familiar music, or photos that are labeled with family names are often great gifts for someone living in a long term care facility.
Holiday travel tips:
For some of us, the holidays traditionally involve travel to be with friends and family. If travel is unavoidable, in addition to incorporating all of the tips provided above, the following are important considerations to plan for:
Be prepared for more confusion than usual. When a person with dementia is out of their familiar setting and routine, it can cause additional stress and confusion.
If you are visiting an unfamiliar home, try to anticipate what you will need, for example, labelling the bathroom door, identifying where things are kept that they might need, bring along extra supplies that might be needed for providing any personal care needs.
Set your own limits up early and be clear on them with others. You do not have to live up to the expectations of others.
Be sure to carry a recent photograph, and other important identification information with you in case you and your loved one become separated. You can register in the MedicAlert Safely Home Program to ensure that if you and your loved one become separated, you have the information ready to be provided to search and rescue professionals.
Give to yourself too!
For some, the holidays can be a painful reminder of the changes you see in your loved one compared with past Christmas celebrations. Taking all of the above into consideration will help with the practical side of this difficult experience, but now necessarily the emotional side that cannot be unpackaged from the experience.
Be sure to talk to friends and relatives. Now, more than ever, you are likely to need the support of those in your circle of care. This circle of care could include others you know who are on the same journey, or reaching out to the caring staff at the Alzheimer Society who can help you navigate how you are feeling.
Give to yourself too – all too often, caregivers place themselves and their needs and wants on the bottom of the to-do list. Take some time to do something just for you and invest in your overall well-being. A massage, dinner with a friend you have not seen in a while, or something else that has special significance to you. Add yourself to your holiday gift list!
Do not neglect your own needs. If friends and family ask what you want for Christmas, suggest a gift certificate to a restaurant where you can order a meal for delivery, house cleaning services, or the gift of a homemade meal. Develop a "bucket list" of the types of things that would help you, and when someone asks, "what can I do to help?" you will have the answer on the ready.
This holiday season, take a moment to acknowledge the incredible task that you do each and every day, whether your loved one lives with you, you are a long-distance caregiver, or if your loved one lives in long term care. YOU are important. What YOU do makes a difference each and every day to your loved one. Take the time this holiday season to acknowledge the imperative role you play, and think of what you would say to someone else doing what you do. Accept these reflections of gratitude and praise for yourself, and give yourself permission to acknowledge the gift that YOU are to your loved one.
(Information sourced from the Alzheimer Society of Canada and its affiliates - www.alzheimer.ca, and Alzheimer's Association www.alz.org)
---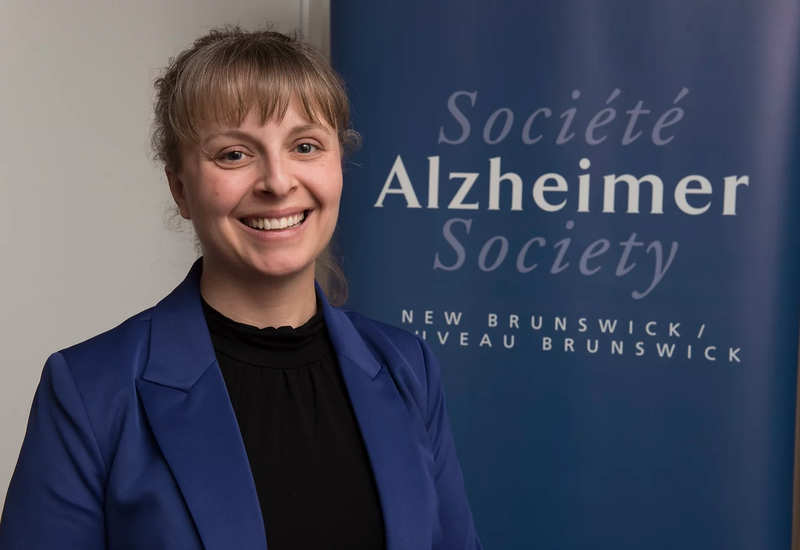 Chandra MacBean is proud to call herself the Executive Director of the Alzheimer Society of New Brunswick. Chandra started with the Alzheimer Society in 2004 as a summer research student, and quickly began her unexpected career working in the non-profit sector. Following her summer student placement, she was hired by the ASNB to fill a new provincial position managing the fund development and programs for the organization. After 4 year in this position, Chandra applied for the Executive Director position, and since being awarded the position has worked hard to strategically transition the organization to plan for the increasing numbers of New Brunswick families who will be impacted by dementia in the coming years. Chandra is passionate about the Alzheimer Society and the positive impact that the organization has on New Brunswick families living with dementia, and she strongly believes in the critical role that the organization will continue to play as our population ages. Prior to working with the ASNB, Chandra obtained her graduate degree and taught on a part time basis at St. Thomas University.